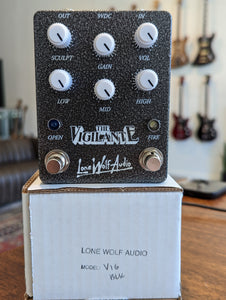 Lone Wolf Audio The Vigilante
Regular price
$275.00
$0.00
Unit price
per
Imagine if you will, A world where the SDT1 got erased from the planet in a hail of gunfire and rocket propelled grenades.
Its face disfigured and psyche warped into something akin to a speed freak and a sewer dweller.
Thats the Vigilante.
I redid the entire gain structure to be more saturated and the op amp clipping to have a dual mode option on the "open" switch, and to operate at a 27v range of headroom.
Its violent, and loud.
Off is Silicon clipping, On is hybrid LED/silicon.
The boring and overdone baxandall EQ was thrown out the window in favor of a Wein bridge dual midrange, and a dual gyrator low and high.
the scuplt control is the secondary mid control that allows you to notch your mids right where you want them.
This is the way this design should have sounded.